With the massive tunnel boring machine nearly here, I thought I would go and check out progress on the project. The last images we saw from the project were aerial photos which helped to show the scale of the project. Unfortunately I don't have the budget to hire out a helicopter so you will have to make do with photos from ground level.
First up I visited the new Richardson Rd bridge which will cross the motorway. The image below is looking south-east towards Maioro St where SH20 currently ends.
Here is from the other side of the road looking north-west.
Off Methuen Rd there is a lookout over the works around the Southern tunnel portal area (it is the green patch just to the left of the leftmost crane in the image above). The next image is from there looking east. The Richardson Rd bridge can just be made out in the distance. You can also see where the trench starts to descend into the ground.
And lastly the tunnel portal itself.
To give an indication about how deep the portal is, The parts in this image below from the Herald aren't even visible in the image above.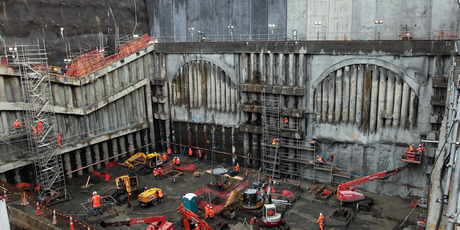 Unfortunately there wasn't really anywhere I could easily stop for a photo of the progress at the Northern portal end. Waterview is such a massive project and even though it is a road, it is one that I do support being completed. My biggest gripe so far is that unlike the Maioro St interchange, it appears that the NZTA, most likely in consultation with Kiwirail have gone and repeated what happened at Dominion Rd by not building and extra span under the road to allow for a future rail line. I'm almost certain the space has been left for it to happen in the future but it just means that there is one more hurdle to address before we might be able to get a rail branch line to Mt Roskill.
For the record, this is the response I received from the NZTA on why Dominion Rd is in the same situation.
The answer to your question is that at the time, a conscious decision was made to not spend additional money time given the long term nature of any rail development. This decision was made in conjunction with KiwiRail as were other decisions around the extent of future proofing along the SH20 corridor.